Youth & Junior Sailing
Youth and Junior Sailing
If you are you a keen sailing family or a parent who has a child who has been on a fun course and wants to do more sailing read on. We aim to be as inclusive as possible and put on activities for all levels.
Some activities are aimed at non members and some at members. For any further information please contact us.
A summary of activities for members during 2023 is below. As this is all volunteer run the event timings and details do sometimes vary as our sailors do attend events away from the Club so we sometimes lose our coaches for those weekends. The Club calendar page is usually up to date with whats on each week but in summary it is:
Junior Racing is aimed mostly at Under 14s in single hander boats. You need to have access to a boat for this. It is training and intro to racing on Sunday afternoons from 1pm, this runs between April-November and starts on 23 April in 2023
RS Feva Training - using Club owned Ready to Sail Fevas (2 person boats), we train most Saturdays from 1pm and runs all year (more at certain times, ie in the lead up to big events). It should start on 22nd April in 2023
Hydra - Runs on Sundays from 1pm after Club racing when there aren't other events running
Team racing training - Runs some Saturdays depending on coach availability and events
More detail below. Most communication is done via WhatsApp so please ask to join this group.
We had amazing and varied weather for our 2023 Easter Camp, enjoyed by over 40 children and adults. Activities included lots of fun sailing, night hike, fitness classes and a morning jog to the Church (not mandatory for the adults!)
Youth and Junior Sailing so where do I fit in?
There is a route available for everybody at Rutland Sailing Club.
If you are looking for an opportunity to learn to sail we have RYA sailing courses
If you can sail already and would like to practice more or start to race you can join Junior Racing - see below
If you're already on the racing circuit you can join Junior Pro or Hydra (depending on age) and a number of our sailors will give you some great competition - see below
Junior Racing on Sundays at 1pm (volunteer led, ability stage 2+)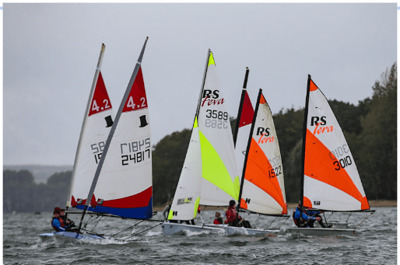 We race all sorts of boats!

If your child can sail already or has done a course and improved through Cygnets, this is the next step. It is aimed at members' children aged from 7 to 14 years old who are able to sail a simple course, have a boat and want to improve their sailing. If your child is keen but still struggling then they can also continue with Cygnets in parallel.
Junior Racing is led and run by parent volunteers and isn't a 'drop and go' session as we are not professional coaches. Parents are therefore asked to stay at the Club as there are always fun things you can help with, from learning how to help on the beach, to rigging and recovering boats and learning to help on the water (often un-capsizing upside down boats). We can help you gain confidence and even get Power Boat 2 license to drive the safety boats.
For young sailors who are gaining confidence and ability, racing is the natural next step and it hugely helps their development and confidence. We have a number of children who regularly race between April and October. This is a fun way to start racing and a minimum of 4 volunteers are needed to help at each session.

RS Feva Training Saturday from 1pm (volunteer led)
Our sailors regularly take part in competitions, both fleet racing and team racing

We run advanced coaching for members who are starting to take part in larger events on the national circuit and have had some great results and lots of fun. We coach in single handers and 2 person boats.
Race Training winter squad organised by the sailing school
This is squad training that is similar to that organised by the RYA (zone and national squads) but is held at Rutland Water and run by the sailing school. It runs through the winter and is aimed at competent racers aged from 8-18. It is an opportunity to improve your boat speed, race tactics and strategy.

Hydra youth coaching
Any Rutland Sailing Club member aged between 13 and 25 can apply to join Hydra. This is the next step on after Junior racing and is designed to take your sailing to another level. We train in Lasers, double handed dinghies, high performance dinghies and team racing boats to hone boat handling skills, tactics and race strategy. Sessions are held about once a month and run through the year. Many of these sailors are competing in regional and national events.
Ready to Sail - Fevas
Four RS Fevas are now available to members as club owned boats in an exciting new initiative called Ready to Sail.
The aim is to provide easy and affordable access to boats for all members including families with children as young as 8 years old to encourage participation and development in sailing at RSC for new and existing members alike.
RS Fevas are a two person, hiking, asymmetric spinnaker boat, ideal for youngsters and parent/child combinations and adult solo.
The Ready to Sail Club Fevas are available for novice, intermediate and advanced junior club sailors, including race training, club racing, social sailing plus club events such as Holiday Week and Easter Camp.
Team Race Training (run by volunteers, open to all!)
We run lots of team racing training and events, from RS Feva teams, to youth Firefly teams to adult Firefly teams.
The club owns a number of Firefly two person dinghies which can be used for team racing. Training sessions are often held on a Sunday afternoon and this is an excellent way to hone boat handling, tactics and the art of team racing.
RYA Zone and other squads
RYA Zone and other squads
These are not run by the club but a number of juniors and youth sailors are part of the RYA training schemes.
"How can I help?" a guide for parents
So your child wants to go sailing but you don't know the sport. Here's how you can help:

Bring wellies! Be on the beach to help with trollies
then, after a while
Learn how to rig/de-rig. Help with pre-launch checks and packing away
next
Borrow or buy a buoyancy aid. Help on a committee boat (tooting the tooter!)
With a buoyancy aid go out as crew in a safety RIB (the driver will be qualified)
and when you're ready
Have your own go at sailing e.g. do a course, join in with 'social sailing'
Learn to drive a RIB: Lay marks and help with safety cover
How can I help?" Parent roles at Junior Racing each week

Lead Race Officer:
Set course (ideally in advance)
Brief and debrief
Lead the session
Assistant Race Officer
Toot the tooter / operate the flags
Time the races
Record results
Safety Boat lead and RIB driver
Need RYA Power Boat Level 2
Provide safety cover
Assist laying and moving courses
Safety boat assistant
A box full of checklists and safety equipment is available at the club.
Junior / Youth Preferred Classes
RS Tera
A popular children's boat at RSC with a growing fleet and a thriving race circuit. Typically more expensive than a topper but also more representative of the boats they will move into and it is suitable from age 8 to 13 with two sail sizes. A good option and worth a test sail.
Optimist
The classic single handed junior boat, available in wood, fibreglass and plastic. The boat is stable even in strong winds and is ideal for the smaller/younger sailor to both learn the basics and race competitively. We have a small fleet at RSC and the Optimist is one of the RYA's recognised junior pathway classes, with regional and national squad training and racing. Many Olympic sailors started in Optimists!
Topper
Single handed junior boat, great fun and good to race. Made of injection moulded polypropylene, making the boat strong and almost maintenance free! A recognised RYA junior pathway class, with regional and national squad training and racing. Popular at RSC, with two sail sizes this boat is used from ages 8 to 13.
RS Feva
A two-person hiking asymmetric junior boat. An exciting and safe introduction to gennaker-sailing. Plus the variety of rig options provide excellent flexibility. The RYA has also recently adopted the Feva as a recognised junior class.
ILCA 4/6/7
The ILCA is a one-design single hander. Three simple, interchangeable rigs take the growing sailor from the Optimist or Topper to an introduction to youth sailing with the 4 rig and then to full youth sailing in the 6 with the final step to the 7.
29er
The high performance youth boat. A 'no-holds-barred' skiff designed along the same sleek lines as its big sister, the 49er. Whilst not a beginners boats, the 29er provides sparkling performance at an affordable price for lighter crews, making this an ideal boat for teenagers. It is also a recognised RYA youth class, with regional and national squad training and racing.
Last updated 16:18 on 27 November 2023